Over the years I have spent a lot of time looking for that 'perfect' font for one project or another. I have amassed quite the collection of font sites, as with everything else, not all font sites are created equal. Some say the fonts are free and after click through numerous screens you end on another font site requiring you to pay for the font.
Now I am not saying that all fonts should be free. I have no problem paying for a font that I need to have to finish a project, but I would rather find a free font that fits what I need.
These are the sites I visit on a regular basis in order to get some new fonts for inspiration for designs, finish projects or just to check out the recent submissions. Hopefully you too will find something you like amongst them as well.
FontFabric.com
Font Fabric is one of my favorites. They have a small but excellent collection of free fonts. They also have a number of paid fonts that are worth taking a look at if you are looking for some great inspiration for typography. Font Fabric makes a point to include samples of projects on which each font was used.
MyFonts.com
My Fonts is another great resource. Most of the fonts on this site are paid fonts, but they do have a number of fonts that are free. 494 free fonts to be exact. Again, like with Font Fabric, My Font offers quality fonts that work great in a number of project types. They also have a tool called
'WhatTheFont'
that can help you identify a font that you don't know the name of.
FontSquirrel.com
Font Squirrel is a site that should not be overlooked. All the fonts on their site are 100% free not just for personal use but also for commercial use. The catch is that they are really just a database with offsite links to the actual downloads. Though they did all the leg work to make sure that all the fonts they list are commercial free, therefor you have to love them for it.
Fonts.com
Fonts offers a wide selection of both paid and free fonts. In order to download the free fonts you must create an account (which is free as well). Fonts is a great place to find decorative fonts for flyers, email campaigns and other print designs.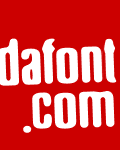 dafont.com
dafont is another good site to visit to find fonts for various print projects. Be sure to check whether or not the font you are interested in is free for commercial use, personal use or both. Nothing like getting files ready to send off and realize that the the fonts you are using are free for personal use only. Its okay to admit it, we have all been there at some point.
FontStruct.com
FontStruct is a site that allows you to build, share and download fonts. The font editor is really easy to use and is actually a lot of fun to play with. All of the fonts are user created via the editor. There are a number of 'FontStructions' worth taking a look at.